Himalayan Pink Salt health benefits include electrolyte balance in the body, increased hydration, regulation of water content both inside and outside of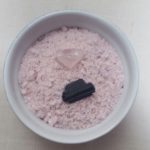 cells, balancing pH (alkaline/acidity) and helping to reduce acid reflux. This wonderful salt will also prevent muscle cramping and aid in proper metabolism function. This salt can be used for cooking in brine and seasoning as a nutritional replacement for common table salt, skin beauty treatments in ointments, skin sprays and bath products. 
Salt caves have been used to help with respiratory complaints and more recently available at home in personal Salt Inhalers and salt lamps for the home. Himalayan Pink Salt is known to assist with healing cold and sinus symptoms. The cellular structure within this salt allows it to store vibrational energy. Since the minerals exist in colloidal form, our bodies are able to easily absorb all of the nutrients in order to experience the full benefit of this natural ingredient.
Himalayan Pink Salt is a rock salt from a mine in the Punjab region of Pakistan.  This natural ingredient contains an impressive 80+ mineral sand elements including: sulphate, magnesium, calcium and potassium. by heating the salt lamps, negative ions are released into the air. This can help boost blood flow, improve your sleep quality and alleviate allergy or asthma symptoms. It comes in array of colors from off white to reddish pink due to the presence of iron oxide.
Stone and Shadow offers a number of products containing Himalayan Pink Salt such as:
Himalayan Salt Bar
Our customized skin sprays, and ointments for eczema and psoriasis treatment also contain this pink salt
For questions or additional information regarding Himalayan Pink Salt health benefits, feel free to contact us by leaving us a question in the comment section below.